Now that we are a little over a week into Onward, we have fully settled into our internships. Before the start of the program, we had each worked with a placement coordinator to find a job that fit our individual interests. I am working at a non-profit called KeepOlim that helps new immigrants to Israel; Sam Vogel is working on an archeological dig; Avital, Sam Schwartz, and Hanna are all working with University professors in their individual areas of scientific study (chemistry; marine biology; and botany, respectively); Spencer is teaching English; and Sam Randman is working at a business start-up. As you can tell, we all have very different internships that complement our varied interests. After work, I love hearing about everyone's internships. I even learned from my roommate, Avital, how lithium batteries work!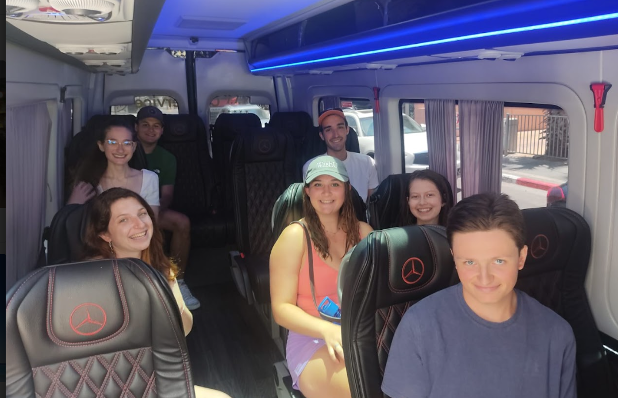 After a week of going into work and figuring out our bus routes (I can now confidently say that I can get to work without the help of Google Maps), we went on a special trip. The seven of us Cincinnatians took a day trip to our sister city, Netanya. The representatives from the Jewish Agency had planned an incredible day for us. First, we met the chaverim, Mika and Shachar, who are deferring their military service a year to volunteer in the Cincinnati Jewish community. We then traded recommendations for what to do in our respective cities, so we told them all about Kings Island, Graeter's, and Skyline Chili.
Then, we did an introspective activity about our Jewish identities. We split into two groups and were tasked with placing pictures—in three concentric circles—based on how central they felt to our Jewish identities. It was fascinating to discuss how similar and different they were for the Israelis and Americans of the group. For example, for me Jewish summer camp is central to my Jewish identity, but Mika, one of the chaverim, had practically no connection to Jewish summer camps. I think it's really interesting how living in a Jewish society can affect whether or not a person participates in supplemental Jewish practices. As an American, it feels like I have to be really intentional about my Judaism, since things like observing Shabbat are not built in. This gives you a little taste of the conversations we had.
Next, we started exploring the city of Netanya. Our first stop was a museum that helped teach us about the history of Netanya. It was the perfect lead-in to our bike tour because it gave us a greater appreciation for all the work that went into creating the beautiful city we were about to ride through. We biked for two to three hours. I had no idea it had been that long until I looked down at my watch as we finished our final stretch. We had all been too busy looking out at the beaches, the parasailers, and the sunset. Overall, it was an incredible trip, not just because the bike ride was beautiful, but because we made new Israeli friends!
Lessons and Takeaways from the week:
1. We Cincinnatians are spoiled here in Israel. We have so many people—in both Israel and Cincinnati—looking out for us and planning amazing programs like this one. I just wanted to give them all a shout-out and say we all appreciate you so much!
2. There's so much to explore and enjoy in Tel Aviv! Just to list a few of the things we've done: "attended an English comedy night"; "dyed my hair purple"; "eaten at lots of delicious restaurants"; and, "spent tons of time on the beach."
Until next week, 
<3 Eva Fischer